In re Conte (Fed. Cir. 2011)
Patent Attorney Francis Conte's patent application is directed to a fly-swatter in the shape of a pistol. When the trigger is pulled, an elastic lash provides a deadly whip.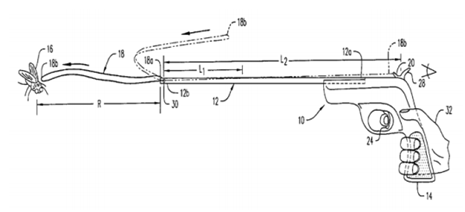 The PTO rejected Conte's invention as obvious. On appeal, the Federal Circuit affirmed – holding the patent invalid in light of U.S. Patent No. 1,779,507 ("White") and U.S. Patent No. 2,642,057 ("Watkins"). These two references clearly taught all of the structural elements of the claims, and the court held that "it would have been obvious to one of ordinary skill in the art to combine the features of White and Watkins and arrive at the invention claimed in the '288 application."
All well and good, except for the limitations not discussed by the court.  The White and Watkins references were both directed to toy guns. White shot rubber bands. Watkins used a rubber band to shoot a pellet or pea. Neither was used to kill insects with a whip.   On the other hand, Conte's claimed invention is direted to an "insect swatter" with a distal end "for being aimed at an insect" and a lash for "whipping … against said insect."  Although the Federal Circuit did not address the insect limitations, the government brief noted that the cited prior art is all inherently "capable of being used to shoot insects" and that the claims only require that capability.  The government's interepretation here is the more traditional interpretation of functional limitations. However, that interpretation received some push-back in the Federal Circuit's recent Typhoon Touch decision.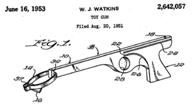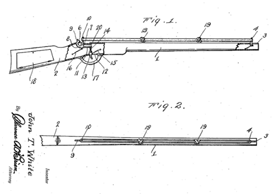 Mr. Conte lost a similar Federal Circuit appeal in a predecessor case but was able to narrow his claims sufficiently to receive a patent.