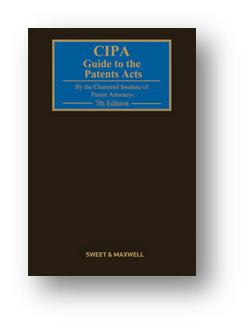 by Dennis Crouch
I just received my new copy of the CIPA guide to the Patents Acts – Seventh Edition, published by Sweet & Maxwell in the UK. CIPA is the Charted Institute of Patent Attorneys and represents about 3,200 patent attorneys, trainees, and other UK intellectual property law professionals. The guide is edited by Paul Cole and Stephen Jones. The book – affectionately known as the "Black Book" – is actually black and has been in print continuously since 1980. Although the book focuses primarily on UK law, it is highly relevant to considerations of both European and American law. Both Lord Justice Jacob and Chief Judge Rader wrote forwards to the book. In his forward, Judge Rader remarked positively on the growing dialogue between US courts and those of Europe and Asia and noted that US patent courts should be prepared to understand and – at times – apply the law of other nations. Point being – this book is relevant to those in the US practice of patent law. Lord Justice Jacob wrote "I shall continue to keep the book within easy reach. So should anyone else concerned with European or British patents."
Parallel to Judge Rader's thoughts, in a working paper (not yet public) I argue that the America Invents Act further compels US courts to consider the law of other nations in order to implement the harmonization mandate found in the newly enacted legislation.
In his summary of the work, Paul Cole writes that this book is "intend to provide the most comprehensive single-volume reference work for patent law in the UK and under the EPC." The book references over 3300 decisions of the UK IP Office and courts and of the EPO Appeal Boards as well as all relevant statutes.
You can purchase the book for £250 (about $400) from the publisher. [LINK]
Congratulations and Cheers!
As an aside – I will be leading a CIPA short course this summer in London at Lord Jacob's home institution of the University College of London (UCL) Faculty of Laws. The course is primarily intended for UK and European patent law professionals and will focus on the new American law and how the changes will impact prosecution, litigation, and licensing of patent rights.