Thought pioneer Dan Abelow fits within an interesting designation.  So far in 2017, his U.S. Patent Publication No. 2012/0069131 – mysteriously titled "Reality Alternate" – is the Most-Oft examiner cited U.S. prior art reference.  The document – now patented as U.S. Patent No. 9,183,560 – covers a method of providing "a portal for a user … to be present simultaneously in two or more different non-fictional alternate realities that are distinct from a non-fictional physical reality of the user."  [Here, I'm looking at Examiner citations rather than those submitted by Applicants]
The Abelow document reads something like science-fiction novel — defining a new Alternate Reality world both in terms of its incredible impact and technical specifications.  From the abstract:
Just as fiction authors have described alternate worlds in novels, this introduces an Alternate Reality—but provides it as technical innovation. This new Alternate Reality's "world" is named the "Expandaverse" which is a conceptual alteration of the "Universe" name and a conceptual alteration of our current reality. Where our physical "Universe" is considered given and physically fixed, the Expandaverse provides a plurality of human created digital realities that includes a plurality of human created means that may be used simultaneously by individuals, groups, institutions and societies to expand the number and types of digital realities—and may be used to provide continuous expansions of a plurality of Alternate Realities. To create the Expandaverse current known technologies are reorganized and combined with new innovations to repurpose what they accomplish and deliver, collectively turning the Earth and near-space into the equivalent of one large, connected room (herein one or a plurality of "Shared Planetary Life Spaces" or SPLS) with a plurality of new possible human realities and living patterns that may be combined differently, directed differently and controlled differently than our current physical reality.
In addition to being written in a way that draws diverse connections (helpful for obviousness conclusions), the reference is also 750 pages long! (The patentee paid an extra $4,000+ in filing costs for the extra page length).  One of the best patent attorneys in the country – David Feigenbaum – filed this case and helped push it through to issuance.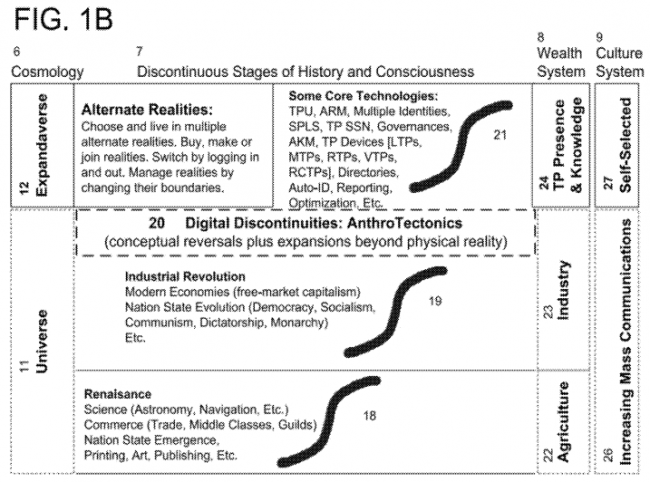 The second-most examiner cited reference thus-far in 2017 is a much more mundane "Control Channel Interference Management and Extended PDCCH for Heterogeneous Network" from Canadian-Based Research-in-Motion.