by Dennis Crouch
In re Google (Fed. Cir. 2019)
This appeal stems from a pending E.D.Tex. infringement lawsuit filed in 2017. SEVEN Networks, LLC v. Google LLC, 2:17-CV-00442 (E.D. Tex. Aug. 22, 2017).  In the case, SEVEN accused Google of infringing ten of its patents:
8,078,158, titled "Provisioning Applications for a Mobile Device"
8,811,952, titled "Mobile Device Power Management in Data Synchronization Over a Mobile Network With or Without a Trigger Notification"
9,247,019, titled "Mobile Application Traffic Optimization"
9,325,600, titled "Offloading Application Traffic to a Shared Communication Channel for Signal Optimization in a Wireless Network for Traffic Utilizing Proprietary and Non-Proprietary Protocols"
9,351,254, titled "Method for Power Saving in Mobile Devices by Optimizing Wakelocks"
9,386,433 titled "System and Method for Providing a Network Service in a Distributed Fashion to a Mobile Device"
9,444,812, titled "Systems and Methods for Authenticating a Service"
9,516,127, titled "Intelligent Alarm Manipulator and Resource Tracker"
9,516,129, titled "Mobile Application Traffic Optimization"
9,553,816, titled "Optimizing Mobile Network Traffic Coordination Across Multiple Applications Running on a Mobile Device,"
Google filed for dismissal under TC Heartland — arguing that it did not reside in E.D. Texas, and had no "regular and established place of business" within the district as required for proper venue under 28 U.S.C. § 1400(b).
However, the district court found venue to be proper.  The crux of the conclusion was based upon the fact that Google owns and uses computer servers within the district — "edge nodes" — that Google operate to quickly deliver content to its users within the district.  Note here that, although Google owns the servers, it rents the rack space within various ISP server hubs.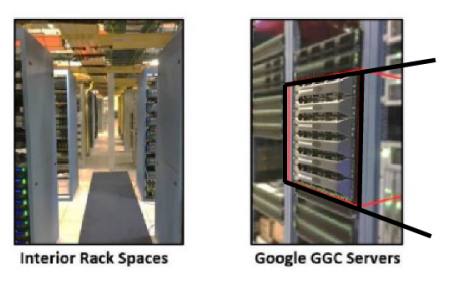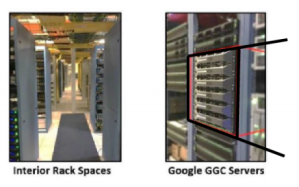 The Federal Circuit then denied Google's writ of mandamus in a non-precedential 2018 order — noting in dicta that the district court decision was fact-specific and reasoned:
Google owns and wholly controls the servers, located in the district under specific contracts with ISPs—which may not even tighten a screw without Google's instruction. The location of the servers in the district serves Google's business interests—by serving interests of Google's ISP customers (e.g., in saving transport costs), Google's end-user customers (e.g., in quick delivery of content), or both—as confirmed by Google's advertising of its Edge Network and the Edge Nodes for efficient content delivery; and upon installation of the servers, Google places its inventory in (loads its content onto) those servers, and when Google's end-user customers ask Google for that inventory, Google can and often does fulfill those requests from those local servers. And the server placement contracts provide Google very strong control to
keep the servers at their locations once they are installed.
Rather than ruling on the merits, the appellate panel court denied the writ — holding that mandamus is not warranted in this case.  Rather, the majority approach is to wait until the conclusion of the trial and, if Google loses, it can then appeal the improper venue issue.
The mandamus denial was issued in a per curiam order by Judges Dyk and Taranto. Judge Reyna wrote in dissent — arguing that "Google's petition presents fundamental issues concerning the application of § 1400(b) that have far reaching implications and on which district courts have disagreed." Google persisted and filed a petition for en banc rehearing of its mandamus petition.  That request has now also been denied, with the inclusion of another Judge Reyna dissent — this time precedential and joined by Judges Newman and Lourie.
The question poised before the court is whether Google's servers … which have no physical interaction with Google employees or customers and are installed by third-parties in the facilities of third-party [ISPs] located in the Eastern District of Texas, constitute a regular and established place of business under 35 U.S.C. 1400(b) and this court's decision in Cray.
In his dissenting opinion, Judge Reyna argues (1) this is an important question that should be addressed on mandamus; and (2) the answer is that servers likely do not count as a "regular and established place of business."
[E]xclusive ownership and control over the servers may be insufficient under Cray. See Cray, 871 F.3d at 1363 ("Relevant considerations include whether the defendant owns or leases the place, or exercises other attributes of possession or control over the place." (emphases added)). It is undisputed that no Google employee has ever visited the places where the servers are installed. Nor do those facilities resemble one of the many Google offices in other venues that would satisfy § 1400(b) under a straightforward application of the statute. See id. at 1364 ("A further consideration for this requirement might be the nature and activity of the alleged place of business of the defendant in the district in comparison with that of other places of business of the defendant in other venues."). … For many [internet focused] companies, the reasoning of the district court's holding could essentially reestablish nationwide venue, in conflict with TC Heartland, by standing for the proposition that owning and controlling computer hardware involved in some aspect of company business (e.g., transmitting data) alone is sufficient.
Here, Judge Reyna is not deciding the question, but suggesting that the answer is likely that venue is improper.
Back on the ground – the case has been proceeding throughout the entire mandamus process. Trial was set for January 2018.  However, just before trial the parties asked for a stay of the case based upon an "agreement in principle" to settle the case.  A full settlement is now likely within a few days.