In re Greenstein (Fed. Cir. 2019) (nonprecedential decision)
Mark Greenstein is trying to patent an automated investment system to "automatically adjust the amount [a] person saves" in order to achieve a projected income amount. A key element of the claims, according to Greenstein, is to "utilize a projected amount of income at a future date for at least one person."  The Examiner and PTAB found the claims unpatentable as both lacking eligibility and as either anticipated or obvious.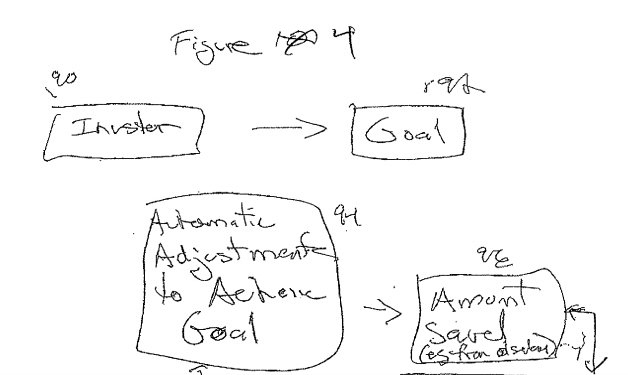 On appeal, the Federal Circuit has affirmed the eligibility rejection — finding:
Alice Step 1: Representative claim 1 recites receiving investment data, adjusting an individual's savings, and investing the adjusted savings to achieve a projected retirement income. This describes no more than the automation of the longstanding fundamental economic concept of personal financial planning. We have routinely held that such claims are directed to abstract ideas.
Alice Step 2: The claims merely recite an abstract idea with instructions to implement it "using one or more computers with associated software." And as the Board correctly stated, these are "generic, purely conventional elements."
On appeal, Greenstein argued that the claimed utilization of projected income was an inventive concept and noted that it "was the basis for the successful commercial launch of a new product, demonstrating its material advantages to persons in the relevant market." On appeal, the Federal Circuit found that argument failed to connect the dots.
Even if Mr. Greenstein is correct that the claimed utilization of a projected future income was the basis for a commercially successful product, this is insufficient to transform the claims into a patent-eligible application. It is well-settled that a claimed invention's "use of the ineligible concept to which it is directed cannot supply the inventive concept that renders the invention 'significantly more' than that ineligible concept."
Slip opinion, Quoting BSG Tech LLC v. Buyseasons, Inc., 899 F.3d 1281 (Fed. Cir. 2018).
Greenstein filed this application back in 2014 (provisional in 2013). He was represented by Bacon Thomas before the PTO, but took it on pro-se before the Federal Circuit.