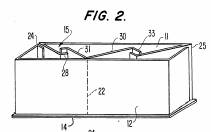 Phillips v. AWH Corp. (Fed. Cir. 2005) (en banc).
As you may know, the Phillips case, which is presently awaiting decision en banc, is expected to be the next major decision impacting the issues of claim construction. For those who are interested, here is a rundown of some of the Amicus Briefs that were filed in the appeal:
1. United States Patent and Trademark Office (USPTO): The Patent Office took the position that dictionaries should not be a primary reference for claim construction, in part because they are not used by examiners during prosecution. The PTO brief was filed jointly with the DOJ and FTC.
2. Intellectual Property Owners (IPO): The IPO brief, argues that the primary evidence of claim meaning should be found in the patent specification and prosecution history. If a court must resort to extrinsic evidence to determine claim meaning, there should be no pre-determined hierarchy of importance. The Court should only consider claim construction evidence in the record on appeal. The IPO brief was written by Paul Berghoff and Josh Rich of MBHB LLP.
3. Electronic Frontier Foundation (EFF): Judges should invalidate and Patent Office Examiners should reject ambiguous claims. Claims should be given their broadest possible construction during prosecution and narrowest reasonable meaning thereafter. Professor Joshua Sarnoff is the Counsel of Record on the EFF brief.
4. American Bar Association: Neither the specification nor dictionary should have primacy. Invalidity should play no role in claim construction, as that approach is contrary to the public notice function. The Appellate Court should defer to findings of fact made during claim construction.
5. American Intellectual Property Law Association (AIPLA): The fundamental standard that should govern claim construction is that a claim term must be construed from the perspective of a person of ordinary skill in the relevant art at the time the patent issued seeking to understand the term's meaning from a study of the entire intrinsic record.
6. Intel, IBM, Google, Micron, and Microsoft: Where those construing patent claims focus on dictionary meanings of claim terms without an appropriate grounding in the specification and prosecution history, there is a danger the interpretation of patent claims will differ markedly from the true scope of the invention they seek to define. Indeed, there are so many different dictionary definitions for any given word that it is impossible to predict with any confidence what meaning a court will choose. The Intel brief was written by Stanford professor Mark Lemley.
7. Federal Circuit Bar Association (FCBA): Dictionaries should not be the primary focus of claim construction. Claim construction may require findings of fact, which should be reviewed for clear error.
8. International Trade Commission Trial Lawyers Association (ITCTLA): The specification and prosecution history should control. When dictionaries are used, technical dictionaries should have a rebuttable preference over general dictionaries. Claim language should not be narrowly construed for the sole purpose of avoiding invalidity. The claim interpretation should not be limited to only the embodiment described in the specification. Expert testimony should be allowed and evaluated as would any other piece of evidence. Deference to the trial court's claim construction may be appropriate in some cases.
9. Biotechnology Industry Organization (BIO): Specification first. Dictionaries second, when specification does not establish meaning of claim terms. Claims should never be narrowly construed for the sole purpose of avoiding invalidity.
10. Bar Association of District of Columbia (BADC) Patent Trademark Copyright (PTC) Section: The specification always provides context for the claims. The court should not determine the question of deference because it would be an advisory opinion.
11. Professors Wagner & Miller: The professors argue that the patent document should be the primary and preferred source of claim meaning — as long as it is clear, specific, and objective. Where the term is not clearly defined in the patent document, there should be a heavy presumption in favor of the ordinary meaning of the term. Dictionaries are not a panacea, but they offer the best opportunity to provide a term's ordinary meaning with clarity, certainty, and predictability.
12. Public Patent Foundation (PUBPAT): Dan Ravicher of PUBPAT argued that "claim construction should never be impacted by considerations of validity." Consistent with Markman, subsidiary factual determinations by the trial court during claim construction should be reviewed for clear error.
13. Intellectual Property Law Association of Chicago (IPLAC): Courts may look to the plain meaning of claim terms but asserts that dictionaries should in general be subordinate to the patent specification and other intrinsic evidence when determining what is meant objectively by challenged claim terms. Dictionaries may be considered, but the guiding light must be what the hypothetical ordinarily skilled artisan would have understood by the claim terms – not in a vacuum, and not armed with only a technical or general purpose dictionary, but also with the full panoply of intrinsic evidence. Courts may receive expert witness testimony on this determination. Edward Manzo wrote the brief for IPLAC, and was given assistance by Brad Lyerla, Dean Monco, Pat Burns and Tim Vezeau.
14. Association of Corporate Counsel: Public notice is best served by first looking at claims, specification and prosecution history. Dictionaries should not be the primary source for claim construction. Because the guiding inquiry is the meaning of terms to those of ordinary skill in the relevant art, relevant technical dictionaries should usually be consulted before general dictionaries.
15. Infineon: The public notice function of patent claims is best served by looking first and foremost to the intrinsic specification, not an extrinsic dictionary definition, to interpret claim terms.
16. Boston Patent Law Association: Dictionaries should not be the primary source of claim construction because they do not stay current, are not necessarily authoritative, and because meaning is not always found in books. Validity and claim construction should be kept separate.
17. Connecticut Intellectual Property Law Association: Inflexible rules of construction are ineffective in interpreting the widely varying universe of language found in patent claims.
18. Medrad, Inc: Claim construction should be based upon the intrinsic evidence (spec, drawings, cited prior art, and prosecution history).
19. NYC Association of the Bar: Dictionary definitions should not provide the primary source of meaning or a separate restriction on claim coverage. Validity should be considered during claim construction. Expert testimony can provide important information. Deference to the trial court's claim construction findings is blocked by procedural and practical obstacles.
20. New York IP Law Association, et. al.:
21. Norvatis:
22. Oregon Patent Law Association:
23. Parus Holdings:
24. Pharmaceutical Patent Attorneys:
25. San Diego IP Law Association:
26. Sughrue Mion: Claims should be interpreted as of the time of filing or earlier. The patent document provides the best notice of the claim's meaning. Deference should be accorded to a trial court's factual findings underlying claim construction.
27. VISA USA and Mentat:
28 Wisconsin Alumni Research Foundation (WARF), UVA, Yale, etc.:
Party Briefs:
Links:
Link

: My review of the case published in Patent World magazine.
ASIDE:
Interestingly, Mr. AWH Phillips was a famous economist who discovered a consistent inverse relationship between the rate of wage inflation the rate of unemployment.