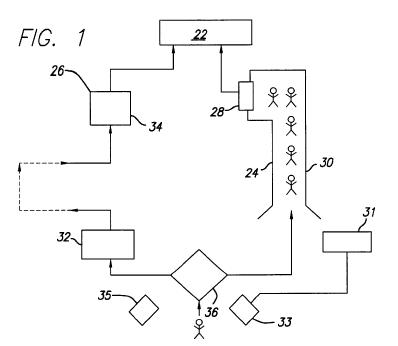 Disney's patented fastPass system allows customers to reserve a time to ride an attraction, rather than waiting in line. (U.S. Patent No. 6,173,209).
According to a report by Sean Mussenden at the Sun Sentinel, a Tennessee man has sued Disney for stealing his idea for the line management system.
After Robert Keyes watched a man pass out in a ride queue at Disney-MGM Studios, he had an epiphany, he said: Theme park visitors do not have to stand in line.

So, according to a patent lawsuit Keyes filed this month in federal court in Orlando, he sent a letter to Disney executives in 1991 describing a system that would allow some theme-park visitors to wait in a "standby" line but give others a ticket to return later and avoid the wait.

A top Disney executive sent him a letter back a month later, telling him the idea wouldn't work and would result in "more guest inconvenience," according to Keyes' lawsuit.
Now, Keyes has sued Disney for "stealing his idea." In the complaint, he has requested correction of inventorship and damages for unjust enrichment.
On their website, Disney notes that "we are unable to accept or examine any creative idea, suggestion or document other than those solicited by the company itself. We hope that you understand the aim of this policy, which is designed to prevent any future misunderstandings or problems which might arise if projects developed by [Disney] were to show a resemblance to creative work originated from third parties."
Links:
Download the complaint against Disney.
Download Disney's patent.
In a parallel case, the 9th Circuit Court of Appeals, in Jeff Grosso vs. Miramax Film Corp., found that movie and television executives enter an implied contract every time they read a script or hear a pitch.