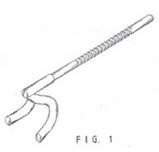 Lawman Armor v. Winner Int'l (Fed. Cir. 2006, en banc).
In February 2006, the Federal Circuit decided Lawman Armor in a way that utterly devalued design patents. The decision appeared to read a design patent would never be enforceable if the patent was simply a novel combination of known elements. Essentially, the decision held that, for the point of novelty test, multiple prior art references could be combined without any prior suggestion or motivation for doing so. As noted in the AIPLA's amicus brief requesting rehearing, if this result were true, there would be very few enforceable design patents because most (if not all) designs are combinations of old forms.
On motion for rehearing and rehearing en banc, the original CAFC panel issued a new opinion intended to "clarify" the original:
In our [original] decision, we did not intend to cast any doubt upon our prior decisions indicating that in appropriate circumstances a combination of design elements itself may constitute a 'point of novelty.' Such a combination is a different concept than the overall appearance of a design which, as indicated, our cases have recognized cannot be a point of novelty.
Thus, the result:
A unique combination of known elements may be a "point of novelty" for design patent infringement analysis; but

The "overall appearance" of a design cannot serve as such a "point of novelty."
As one of the attorneys of record pointed out to me in a post-decision conversation, this distinction does not make sense for this case because the Appellant never argued that the point of novelty was simply the "overall appearance." Rather, the Applicant set forth eight constituent elements and also argued that the combination of those elements was a ninth point of novelty.
Judge Newman, joined by Judges Rader and Gajarsa would have heard the case in an en banc panel. In a dissenting opinion, those judges argue that the overall appearance of a design should be sufficient to constitute patentable novelty:
The patentability of a design is determined on statutory criteria, as for all patents. The protocol called "point of novelty" has often aided the analysis of the application of these criteria to designs, but it is not a different concept from patentability based on the invention — the design — as a whole, and has not replaced the statutory provisions. Contrary to the panel's view, the overall appearance of a design can indeed be novel, and can indeed constitute the patentable novelty.
Documents:
Links: