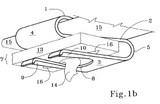 In re Hays (Fed. Cir. 2006) (Nonprecedential)
New Circuit Court Judge Kimberly Moore's first opinion is likely to be predictive of her future work — short, focused, and to-the-point.
This case involves a pretty neat invention of a tissue holder for an automobile visor. The BPAI had rejected the claims as anticipated, but the PTO later conceded that the cited reference (relating to a golf-tee holder that clips to a lapel) was not anticipatory.
The PTO is fully expected to present a new grounds of rejection. In all likelihood, the patent will never issue because another round of appeal would be prohibitively expensive for this type of invention.
Vacated and Remanded.
This does not really count as Judge Moore's first opinion because it is a non-precedential opinion. In a few weeks, we'll get the real one.