In 2005, the PTO held a ceremony to commemorate the issuance of design patent number 500,000. The design patent went out to DaimlerChrysler for the design of the Chrysler Crossfire. Then Commerce Chief Gutierrez and PTO Director Dudas were on hand to note the importance of design patent design patents.
The patent has taken an interesting path – as shown by the assignment records at the PTO. Of course, DaimlerChrysler is gone, and Chrysler now owns the patent. In addition, Chrysler has given-up three separate security interests in the design patent. The first and second priority are apparently held in trust by the Wilmington Trust Company. The third priority is held by the US Department of Treasury based on a January 2009 grant and is apparently related to the company's receipt of bailout money. [Assignment Data]. D500,000 is not the only patent implicated here – the assignment documents show that the US Treasury holds a security interest in more than 2,400 of Chrysler's patents or pending applications. [More Assignment Data]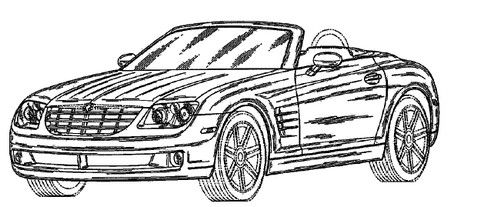 One important practice issue is raised: Absent a specific agreement, to what extent must the applicant consult secured creditors during the prosecution of a pending patent application?