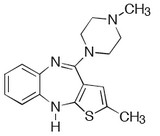 Eli Lilly v. Zenith Goldline (Fed. Cir. 2006)
Lilly's patent covers olanzapine (Zyprexa®) and its use for the treatment of schizophrenia. Three generic manufacturers (Zenith (IVAX), Dr. Reddy's, and Teva) filed an ANDA and Lilly responded with a complaint in the Southern District of Indiana. After a bench trial, the district court agreed with Lilly that the patent was valid, infringed, and enforceable. The defendants appealed to the Court of Appeals of the Federal Circuit.
Anticipation: To anticipate the invention, a prior art reference "must disclose each and every feature of the claimed invention, either explicitly or inherently." However, in both Petering and Schaumann, prior art references that disclosed the family of the claimed compound were found to anticipate the claimed compound — even though the claimed compounds were not specifically discussed.
Here, the CAFC found that those cases were not applicable because the closest reference to olanzapine did not spell out "a definite and limited class of compounds that enabled a person of ordinary skill in the art to at once envisage each member in this limited class."
Obviousness: The CAFC agreed that the prior art references did not suggest a the compound. In addition, Lilly provided strong evidence of secondary considerations, including: "(1) a long-felt and unmet need; (2) failure of others; (3) industry acclaim; and (4) unexpected results."
The record shows a long-felt need for a safer, less toxic, and more effective clozapine-like drug; a decade (or more) of failure to find a replacement for clozapine; a reasonable amount of commercial success for olanzapine; and a number of awards for olanzapine as indicators of industry acclaim.
Public Use: Prior to filing the patent application, Lilly conducted Phase I clinical safety trials. The court found, however, that the trials were well within the experimental use exception:
In this case, Lilly tailored its tests to their experimental drug safety and efficacy purpose, adequately monitored for results, and maintained confidentiality throughout the duration of the study. The trial court did not err in finding no public use.