[edited to fix my pre-coffee typos where my eyes though provisional = published]
In 2001, the USPTO published its first patent application. Since then, almost two-million patent applications have published. During this same time period, about 1.3 million patents issued. There are a couple of ways that the prior art created by patent applications change the prosecution game. First, published applications increase the sheer volume of prior art. Most notably, around ten percent of the published applications will never issue and would not have been otherwise published. And, even if published elsewhere at a later date, applicants would be faced with the later 102(a) effective date rather than the 102(e) effective date associated with a published application. This ties in with the second importance of published patent applications — they bring innovations to light more quickly and in a manner that patent examiners can readily use. Along these lines, the early publication of published applications triggers the clock for the statutory bar of 102(b).
Looking at patents issued during the past four years, I calculated the average percent of cited references that are US published patent applications. As you might expect, that figure has been rising steadily – doubling from under 6% in 2006 to almost 12% for patents issued in the early part of 2009. The evidence shows that examiners are using the patent applications. On their own examiner's locate 41% of all cited US patent application publications even while locating only 25% of other cited references. (The remaining references are submitted by the applicant).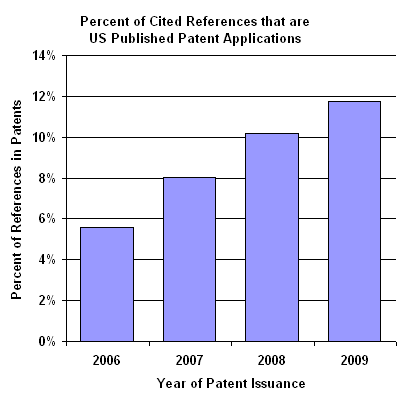 Note, this post was prompted by an interesting series of comments on IPWatchdog questioning whether this newly available prior art has been a factor in the dropping allowance rate.